Honda Airwave 2006
Seats: 5
Luggage Space: Large Medium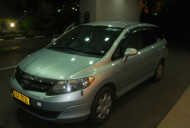 Knows the Central Region well

Most vehicles and drivers are available for either a single one-way transfer or to remain with you.

If you select a car and driver for a one-way journey then the price you pay is inclusive of fuel.

If however you select a driver on a per day basis then unless stated otherwise the costs you incur are (i) price per day (which includes all of the driver costs), (ii) price per km and ( iii) fuel. Therefore the price that you pay will vary depending on the car / driver option that you select, the number of days and the total distance that you travel.